Published on 02 April 2013, by M. Tomazy.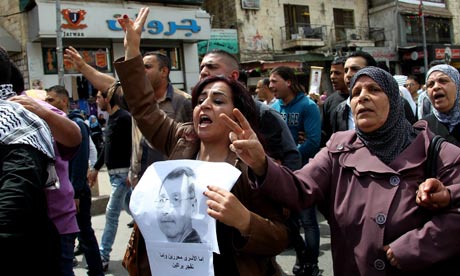 A Palestinian prisoner has died of cancer after claims of medical negligence by the Israeli authorities, triggering unrest in the West Bank and among Palestinian inmates in Israeli jails. A three-day hunger strike by Palestinian security prisoners has been announced.
Maysara Abu Hamdiyeh, 64, died on Tuesday morning, three days after being transferred to Soroka hospital in the city of Be'er Sheva. Following news of his death, Israeli prison guards used teargas in response to protests by hundreds of Palestinian prisoners, who banged on cell doors and threw objects. Three prisoners and six guards needed medical treatment, according to the Israeli Prison Service (IPS).
There were clashes in the tense West Bank city of Hebron, where Abu Hamdiyeh lived. Demonstrators threw rocks and firebombs, according to reports.
Abu Hamdiyeh, who was sentenced to life in 2002 for attempted murder, was diagnosed with cancer of the oesophagus several months after complaining of ill health. By the time he was transferred to hospital, the cancer had spread from his throat to his spinal cord. According to his lawyer, he had lost significant weight and, until his admission to hospital, had been treated only with painkillers.
Issa Qaraqe, the Palestinian Authority prisoners minister, said Abu Hamdiyeh's cancer spread because he did not receive treatment earlier. "The prison administration knew that he was suffering from cancer and they didn't release him and medically neglected him," Qaraqe told the Palestinian news agency Ma'an.
Sivan Weizman, a spokeswoman for the IPS, said it had initiated moves to get Abu Hamdiyeh released on compassionate grounds after his cancer was diagnosed as terminal last week. "Usually it takes a few weeks to complete," she said.
An earlier statement from the IPS said: "The prisoner was diagnosed with oesophageal cancer in February and was under the medical supervision of experts at the hospital. About a week ago, after being diagnosed as terminal, the ISP appealed to the release committee to secure his early release, a process which had been started but not yet concluded."
The issue of prisoners' rights has widespread resonance in Palestinian society, where most families have experience of relatives in jail.
There are at least three prisoners on long-term hunger strike. Samer al-Issawi has been refusing food for long periods since August after he was arrested for allegedly transgressing the terms of his release from a 30-year sentence in October 2011 under the prisoner-swap deal that saw Israeli soldier Gilad Shalit freed after more than five years in captivity.
Issawi's weight has halved to 45kg and he is reported to be in a critical condition in Kaplan hospital in Tel Aviv.
According to Addameer, a Palestinian prisoners' rights group, the Israeli authorities are pressuring him to accept a deal under which he will be released but deported to Gaza, which it says is forcible transfer and illegal under international law.
"Samer's life is in danger and I am told that at any minute his heart could stop," his mother, Laila, 65, told the Guardian. "He has become a symbol of defiance."
Younis al-Hroub has been on total hunger strike since 19 February in protest over his "administrative detention" without charge or trial since July. He is in Soroka hospital, shackled to a bed, according to Addameer.
Another administrative detainee, Samer al-Barq, has been refusing food since the end of February.